Naci Oz, CILSE Ph.D. candidate, recipient of the Smriti Bardhan Award of Excellence in Genetics Research
July 14, 2023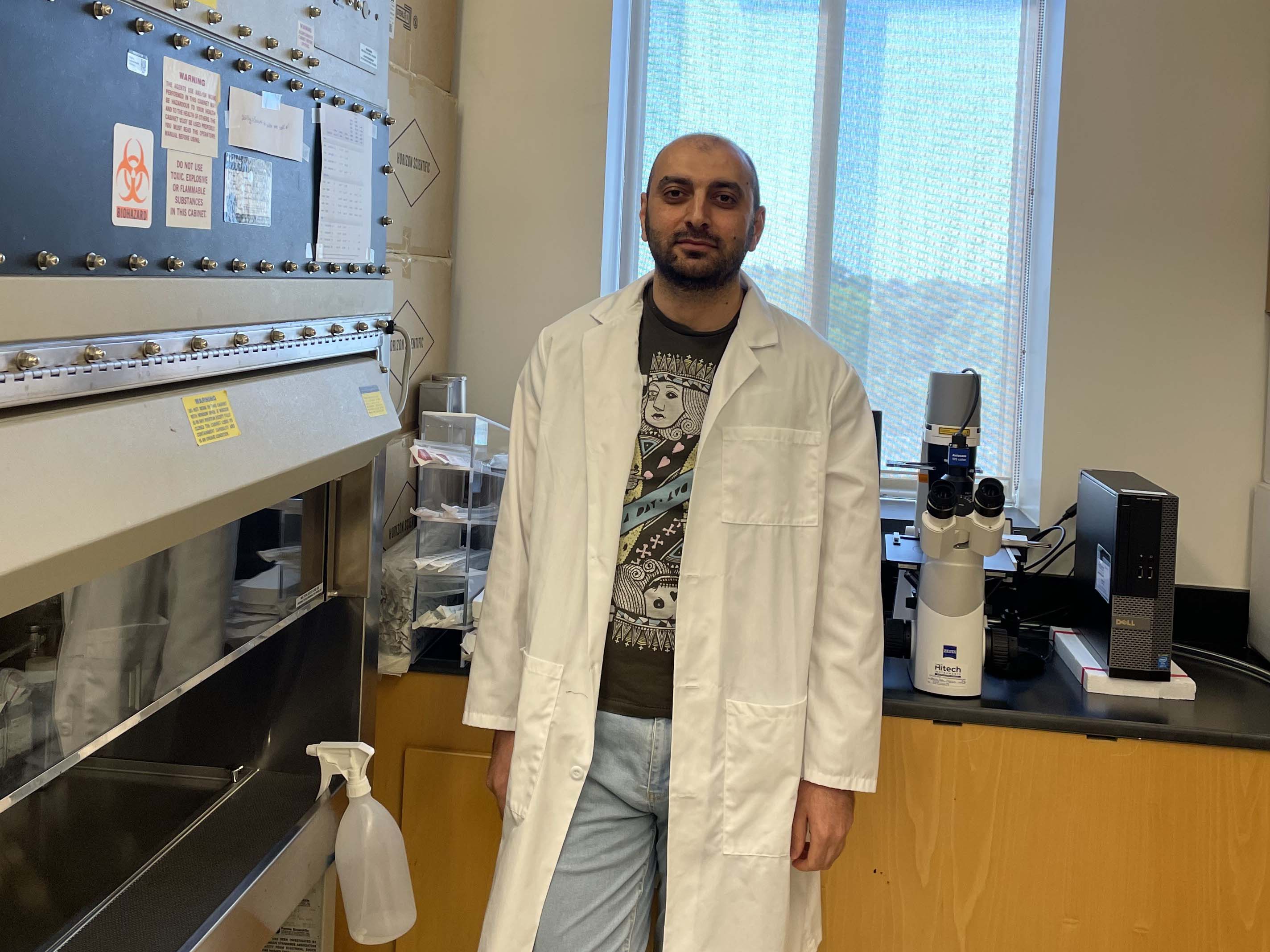 Naci Oz, a third-year Ph.D. candidate in the Center for Integrative Life Sciences Education (CILSE) and a research intern in the lab of Dr. Alaattin Kaya, is the inaugural recipient of the Smriti Bardhan Award of Excellence in Genetics Research. The financial award supports professional development opportunities for doctoral students with demonstrated excellence in genetics research in the health sciences.
Oz's road to VCU began in Turkey, where he completed his master's education in 2016 in a joint program at Uludag University in Turkey, the Max Planck Institute of Evolutionary Biology in Germany, and Maynooth University in Ireland; he received his undergraduate degree in Molecular Biology and Genetics at Istanbul Technical University in 2013.
In 2019, Oz wished to continue his studies as a Ph.D. student and began to look toward universities worldwide where he could pursue his research. This led him to Dr. Kaya, assistant professor, geneticist, and biochemist in VCU's Department of Biology. Dr. Kaya's background at Harvard University and the work conducted at his VCU lab pushed the CILSE doctoral program to the top of Oz's list.
Oz made the decision to apply to VCU, which was complicated enough as an international student but was made nearly impossible when COVID gripped the world in early 2020.
Undaunted by the obstacles he now faced, Oz heard Dr. Kaya was looking to mentor a Ph.D. student, but distance and the pandemic kept Oz from being able to meet Dr. Kaya in person. An email connected the two, and after an almost two-year wait, Oz was able to travel to Richmond to begin his work in Dr. Kaya's lab.
Oz's work focuses on age-associated diseases. "Once you get old, your body loses some abilities you have in your youth," said Oz, "I am trying to figure out how to slow that down." It did not take long for him to make an impact with his research.
His first study at VCU yielded results that ended up being published in a 2022 edition of the prestigious aging journal, GEROSCIENCE. The teams sought to explore if essential, highly conserved genes -- common to yeast and people – could be manipulated to extend their lifespans.
Currently, Oz's research focuses on cellular aging, age-related diseases, and the relationship between nutrition and the molecular mechanism of aging. He hopes to identify novel molecular targets in aging pathways that can be used for clinical intervention for age-associated diseases such as Alzheimer's and Parkinson's. The results of this research could lead to the development of new therapeutic tools to slow down aging and age-associated degenerative diseases.
Speaking of his recent award of excellence, Oz expresses his gratitude and heartfelt appreciation to Dr. Bardhan's family for their generous support. "The financial assistance with the award will undoubtedly help me in my professional development as I continue to pursue my passion for genetics research," states Oz. Appreciation also goes out to Dr. Kaya, and CILSE director Dr. Stephen Fong.